Frequently asked questions
Do you have a question about ordering your favorite watch from our collection? Have a look at our FAQ section for answers to all product & order related queries.
PAYMENT
My order is not processing. What do I do?
If you received an error message when placing your order, it could be a problem with the personal information or with your bank details. If this happens, kindly please double check all your details and make sure that the billing name and address matches the credit card you're using for the purchase. In case payment is still not pushing through, please contact your bank for more details.
How can I use my promotion code?
Your promotion code can be added to your shopping cart in the field "Promotion Code". Enter the code and press apply. Note that only one promotion code is valid per transaction. The promotion code cannot be combined with other additional promotional code or offers.
Was my order successful?
Upon completion of your order, you will receive an email confirmation with your order number. In case you have not received any confirmation message from us and the payment is deducted from your card, please contact your bank immediately.
SHIPMENT & ORDER
How can I track my package?
You will receive a tracking number when your order has been dispatched. In case tracking number is not received, you can find it on your Hydrogenwatch.com account page.
Will I have to pay any taxes or duties?
Please note that your package may be subject to import duties and taxes or any additional charges for custom clearance as customs policies vary from country to country. If this is applicable to your country, please note that Hydrogenwatch.com is not responsible for any charges applied to your package.
When will I receive my order?
We are very committed to deliver your product at the earliest time possible. Our standard timeline is between three to six working days.
Why can't I see my order in my account page?
Please ensure that you have a registered account to view your orders. Orders placed before creation of the account will not reflect on the account page. For more information about your account section feel free to contact us.
How long does it take to ship my order?
One your payment is received and verified, it takes between one and three working days to process and ship your order.
I want to change or cancel my order; how can I do that?
Unfortunately, once your order has been processed from our warehouse, we will be unable to make any changes anymore. However, if you wish to change any details with regards to your delivery address please contact us immediately.
WARRANTY & REPAIR
My watch is broken, and I want to repair it, what is the process?
Please download the repair form below and read the repair process manual. If you wish to get more information about the step by step guide for the repair, please feel free to contact our repair team and they will guide you through the whole process.
What is covered under warranty?
All Hydrogen Watches comes with 2-years international warranty against any manufacturing defects. However, the warranty does not cover water damage, normal wear and tear, batteries, accidental glass damage, scratches, strap damage, or theft. Please read the instruction manual carefully to understand the watch maintenance requirements.
RETURN & EXCHANGE
What is your exchange/Return policy?
You can return all products you've purchased directly from our website within 15 days of receiving the item. The product shall be unused and shall be "as received condition; which means– the complete unused watch including watch box, Warranty Card, Instruction Cards, all the stickers and all protective stickers shall be returned. All gift items shall be returned as well (if any, shipped with original purchase). Sending the product safely to our warehouse is the responsibility of the sender and shipping charges or other expenses will be borne by the sender. We consider that you choose a shipping service where your product is insured, and you can track the shipment (for example registries airmail parcel). Note that Return against Cash on Delivery is not accepted. Once product is received, hydrogenwatch.com will run the Quality Check to ensure the watch is in its original condition. We will process the refund within 15 days after receiving the approval from Quality Check. Note that additional charges on the purchase, such as duties and/or Taxes can't be refunded back. Please click the link to register your return request, (only if the purchase is made from www.hydrogenwatch.com). You need to return the product together with the printed copy of the payment confirmation and the filled return request.
Have you received my return?
You will receive an email confirming the registration of your return from our return department. In case you did not receive an email within 15 days from the date that you've returned your package, please contact us with your order and tracking number so we can assist you further.
How to exchange the wrong product shipped to me?
If you received a different product than you order, please do not worry, contact our support team at support@hydrogenwatch.com and we will rectify our mistake.
CONTACT US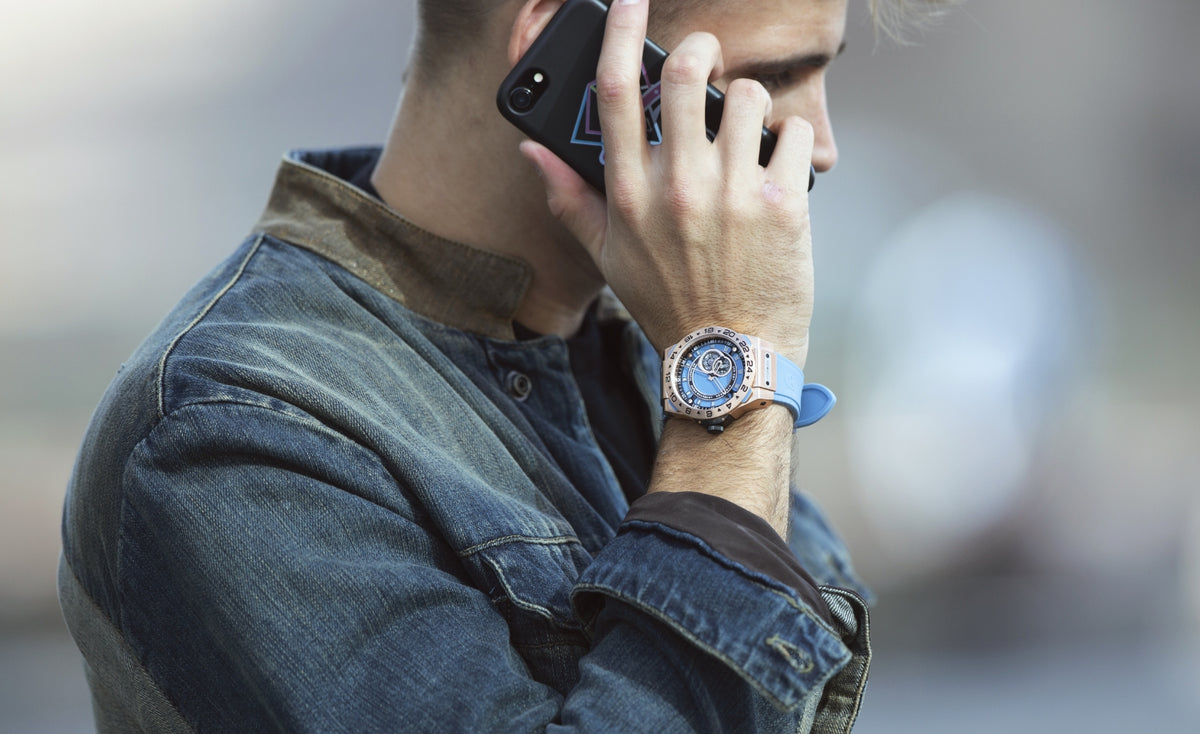 Have a query? We've put together an
FAQ section
with answers to everything about Hydrogen Watch.
Prefer talking to someone about your queries?
Click here
to open our chat window.